The installation of a new spectator stand as part of the redevelopment of Gussie Park will now proceed after Dundee United Supporters' Foundation members agreed to donate a further £50,000 towards the project.
In a ballot of members 95.6% voted for the proposal from a turnout of 79.9%.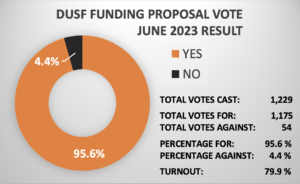 This overwhelming vote in favour of the proposal means the stand installation will be completed in time for the new season. DUSF members have already raised funds towards a FIFA-approved playing surface, perimeter fencing, improved spectator areas, new FIFA-compliant floodlighting, replacement goals and technical areas and upgraded toilets and changing rooms.
This ballot result increases the sum invested in the Gussie Park redevelopment by Dundee United Supporters' Foundation members to £382,000, and the sum invested in total to Dundee United FC, fans' projects and charities to £523,000 since our launch in 2017.
A legal agreement was recently signed by DUSF and DUFC, to ensure that Foundation members investment is protected.
As part of the this agreement, the entire Gussie Park complex will be renamed Foundation Park. This is a fitting and lasting testament to all DUSF Members who have made contributions to make this happen.