As the DUSF is a fan run organisation we felt we should have a fan as our next Honorary Member so we are delighted that Tommy McKay has accepted our invitation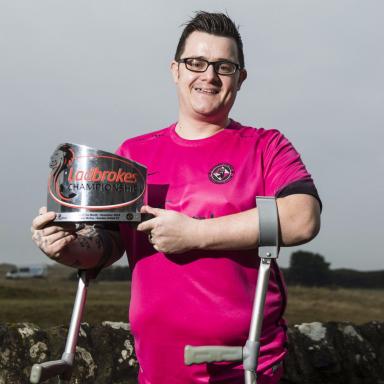 Tommy, from Monifieth lost his leg at the age of nine to bone cancer, and he exploded on the scene last November when a video of his fantastic lobbed goal during a half time challenge at a game versus Dunfermline went viral. His spectacular chip over the keeper even won the SPFL goal of the month.
Since then Tommy has helped raised the profile of amputee football in Scotland has been instrumental along with the United Community Team in setting up the first Dundee United amputee team.
Tommy's great year was capped when he was picked for Scotland's first international fixture against Holland in October. His 'can do' attitude is a great inspiration to us all, and he has been a great ambassador and role model for all Arabs and the club. We are proud to have Tommy as our latest Honorary Member .
Tommy said "I don't know what to say, I'm speechless. I've never had such an honour in my life. I think the work that the Foundation people are doing is essential to the future of our club, and I'd encourage all United fans to get in touch with them to find out more. I'd love to take up the  invitation even though to be amongst such esteemed company is something I don't deserve."
See Tommy in action here;