Dundee United Legends become Honorary Members of DUSF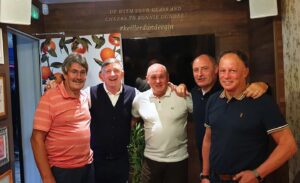 DUSF are delighted to announce that five players from the Dundee United FC 1983 Championship winning squad have accepted our invitation to become honorary members of the Foundation.
The DUSF Steering Group recently met with, Paul Hegarty, John Reilly, John Holt, Hamish McAlpine and Maurice Malpas to give them a bit of background information on the Foundation and to update them on current and future plans. Following the meeting they all agreed to support DUSF by becoming honorary members.
It's a great privilege to have five members of the squad responsible for that magnificent achievement in 1983 as honorary members and we are hugely grateful for their support.